Donating life-saving plasma
Has never been so rewarding
Donating life-saving plasma
Has never been so rewarding
Donating life-saving plasma has never been so rewarding
Plasma is a precious resource and a critical gift to others. We know that donating takes time, effort, and commitment. To show our appreciation, our KEDREWARDS program offers additional compensation in the form of point rewards for donations and referrals. In addition, our KEDREWARDS program rewards loyalty and provides an opportunity to engage with our community and provide your much-needed and desired feedback on how we can continue to improve and enhance the donor experience.
Have you completed your first donation?
We encourage and welcome you to sign up for our KEDREWARDS program after your first donation directly at your donation center kiosk. If you miss the opportunity or are in a hurry after your donation, you can sign up online at kedrewards.kedplasmausa.com or text the keyword "KEDREWARDS," to 999-777 to opt-in from your phone.
KEDREWARDS is an exciting program that offers many benefits to enhance your donor experience. First, every time you donate plasma, you will earn points which can be later redeemed for prizes or benefits like our Express Pass. Once you've registered, allow 48 hours for your points to display. Periodically, we will provide you with additional opportunities to earn points.
If you are interested in being notified about donation center special hours, events, weather issues, etc, opt-in to receive a text notification. Opting in also provides you with access to special bonuses and exclusive KEDREWARD member offers. Last, the KEDREWARDS program allows you to have a say on the donor experience by providing your input through a donor survey. We welcome all feedback from our valued donors as part of our ongoing process to ensure that the donor experience is a positive and pleasant one.
How do I enroll?
Visit kedrewards.kedplasmausa.com at the convenient kiosk located in your center or from any smart device.
Enter your Donor ID 8-digit number given on your first visit
Enter Last Name and include your suffix (i.e. Jr., Sr., III) with Last Name
Enter Date of Birth
Select Log In
Enter your Cell Number then select Yes to opt-in for text messaging & receive 800 points
Set up your Challenge Questions. Challenge questions are case sensitive & act as your password
To verify or change your communication preferences, select My Account, click on Edit and then Communication Preferences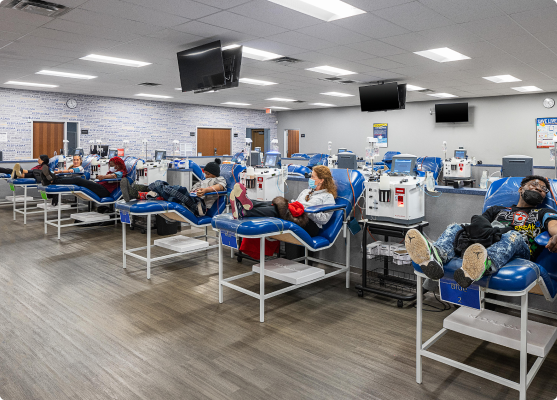 When do I receive points?
You collect points for each:
Qualified plasma donation. Plus you can earn an additional 1200 bonus points on your 8th donation of the calendar month.
Completed survey. Log in at the kiosk after completing your donation or log into your account to complete surveys after each donation. We welcome and appreciate your input on these surveys. But please note, that you only have 5 days after your donation for each survey prior to its expiration.
Are you a firefighter, military personnel or police officer?
We thank you for your service and continued concern for others by donating plasma. Show a valid ID to our staff and we will reward you with extra bonus points for each qualified donation.
Are you a student?
We appreciate you supporting us and taking the time away from your studies. Show a valid ID to our staff and we will reward you with extra bonus points for each qualified donation.
How do I redeem my points?
Go to our online store and choose whether you would prefer a gift card from our varied selection or an Express Pass to save you time on the donation process..
Gift card
Receive a gift card for the following businesses: Amazon, Walmart, AMC, Burger King,
McDonald's, Target, BP and more! (*gift card options change periodically).
Express Pass
Present your Express Pass in your center for a one time opportunity to skip to the "front of the line" and save valuable time on the donation process. See staff for more details on how the Express Pass works.
KEDREWARDS FEATURES
Donations
view completed donations
Test Results
view test results for blood pressure, weight, pulse, etc.
Online Store
redeem points for prizes
Surveys
available for a limited time after each donation
My Account
update communication preferences & challenge questions
Find your nearest donation center
KEDPLASMA has over 30 centers across the country. Find out which of our locations is closest to you.