A step by step guide
My first plasma donation
Because new experiences can sometimes feel overwhelming, we have prepared a step by step guide that explains the whole donation process from the moment you step into one of our centers to the moment you leave.
A step by step guide
My first plasma donation
Because new experiences can sometimes feel overwhelming, we have prepared a step by step guide that explains the whole donation process from the moment you step into one of our centers to the moment you leave.
What is plasma donation?
Blood plasma donation, more simply known as plasma donation is a safe process in which the liquid portion of your blood, composed mostly of water, gets separated from its cells. Your blood passes through special equipment, called a plasmapheresis device, that collects and stores your plasma but returns your blood along with some saline.
How should I prepare for the donation process?
Before you come to your plasma donation center, we recommend you do the following:
drink water (4 to 6 ounce glasses)
avoid caffeine
avoid alcohol of any kind (for a 24 hour period before donation)
eat something before donation
avoid intense physical activity (1 hour before donation)
get a good night's sleep
What should I bring on my first visit?
If you are donating for the first time, don't forget to bring the following documentation to your plasma donation center:
valid ID (driver's license, etc)
proof of residency (current lease, piece of mail with address, utility bill, etc)
social security card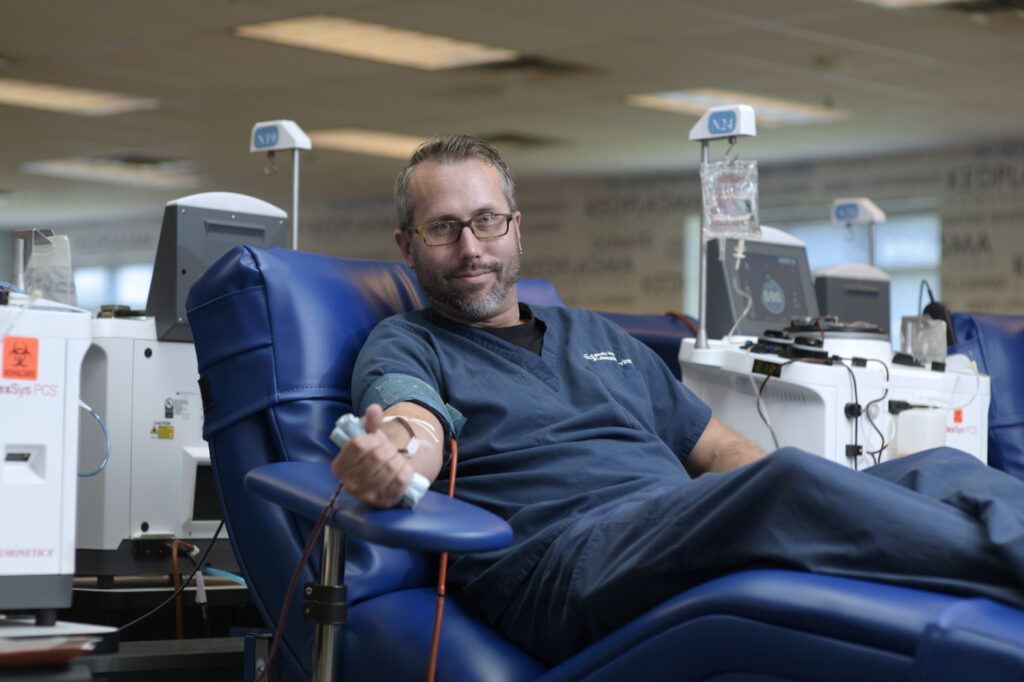 What happens at the plasma donation center?
On your first visit, plan on spending approximately 2 hours. You will be given a physical exam by our medical staff and asked some questions about your medical history to help us ensure that donating is safe for you and for the people who will receive the gift of your donation. Subsequent visits will take a little over an hour from check-in through donation.
You will receive a pre-screening physical exam to ensure it is safe for you to donate and that your plasma meets strict regulatory requirements. During your confidential visit, a member of our medical staff will draw a blood sample to check for communicable diseases and to ensure that your protein levels are in line with requirements. You will also be asked some questions about your medical history.
Before every donation, you will be asked a set of screening questions and a member of our trained staff will take your blood pressure, pulse, and temperature readings to ensure they are within normal ranges. They will also perform a quick finger stick to check your protein and hemoglobin levels. This helps us make sure you are in good health and are ready to donate.
You will then be assigned a phlebotomist – a fully trained technician who specializes in drawing blood – who will collect a predetermined amount of plasma based on your individual body weight. This process usually takes about 45 minutes, during which time you will be closely monitored by our staff and can relax on one of our comfortable donation beds. We recommend bringing some form of entertainment to pass the time while you are donating.
When the procedure is complete, you will be compensated for your time and effort and thanked for your life-saving donation.
What should I do after donating plasma?
At KEDPLASMA we consider the comfort of our donors essential, even when they leave the plasma donation center. That is why we have compiled a short list of post-donation tips:
drink more fluids than you normally would (for 4 hours after donation)
avoid caffeine, alcohol and cigarettes (for 4 hours after donation)
keep the blood extraction site on your arm clean and dry
remove the bandage (after a few hours)
Learn more about plasma donation requirements.
The plasma donation process is perfectly safe but can have minor side effects like dizziness or slight discomfort at the venipuncture site. If you happen to feel dizzy, lie down or sit down with your head down. If any symptoms or discomfort persist, please contact your plasma donation center or your doctor.
Did you know that you have to donate at least twice for your plasma to be used?
Because of strenuous quality control standards instituted by regulatory agencies and in order to protect the plasma we supply, we can only use your generous plasma donation after your second visit. If testing associated with both donations is negative for transmissible diseases, they can be fractionated into life-saving therapies.
How we thank you for your donation?
Because plasma is such a precious resource and because we know that giving takes both time and effort, our KEDREWARDS program offers additional rewards for donations and referrals.
KEDREWARDS is also a great way for donors to give feedback about their experience in our plasma donation centers.
Find your nearest center
KEDPLASMA has over 30 centers across the country. Find out which one is closest to you and the services and plans it offers.